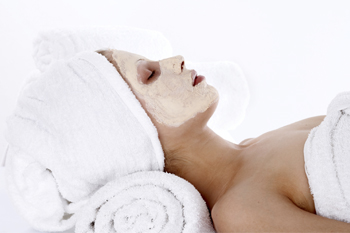 A facial treatment is a relaxing cleansing process performed by a licensed esthetician that exfoliates, hydrates, and nourishes the skin. Facials are a gentle, relaxing treatment that is perfect for the majority of skin types. During the treatment, the face is usually steamed, cleaned, and exfoliated. Every facial treatment is personalized to fit your skins needs for the best results. Studies have shown that regular facials contribute to younger, clearer looking skin that is hydrated and balanced.
Steps in a Facial Treatment
During the first steps of almost any facial treatment, the esthetician usually examines the skin through a lighted, magnifying mirror. The esthetician looks at pores, skin texture, sensitivity, and damage to determine skin type. This knowledge is used to help choose products to use during the treatment. Next, gentle steam is used to open up the pores. After the face has been steamed, an exfoliant is applied to the face and massaged into the skin. The exfoliating product removes dead skin cells and encourages skin renewal.
After that, hot towels are used to gently remove the exfoliant once this process is over. If the client has an blackheads or whiteheads, careful extractions may be performed. A mask with further hydrating or exfoliating ingredients may be applied. Finally, gentle facial massage and products are applied at the end of the treatment. The client leaves with product recommendations and skincare advice from their expert esthetician.
Short and Long Term Benefits Of Facial Treatments
The short term benefits of a facial treatment are noticeable during and after the treatment. As the treatment is finished, the face feels completely fresh and clean. Skin feels softer and more hydrated immediately, and the client feels relaxed. Acne breakouts may fade or gradually disappear after the treatment. For mature skin, skin may feel plumper. Regular facial treatments lead to better looking skin, especially when performed each month. For adolescent and young adult skin, acne breakouts may be reduced significantly. Facial treatments also can help calm sensitive skin, especially during the colder months.
Facial Treatments As Part Of An Anti-Aging Regimen
Facials are an effective step of any anti-aging regimen. Anti-aging facials follow similar steps in comparison to regular facials, but the ingredients used target problem areas in aging skin. As a person ages, their skin produces less collagen and elastin. This loss is responsible for the looser and thinner appearance of skin. The time it takes for new cells to reach the surface slows down as the body ages. The anti-aging facial treatment may include chemical exfoliation and other collagen producing techniques. These work by removing a microscopic layer of skin cells to accelerate the growth of a new one. Some techniques create micro-injuries on the skins surface, which stimulates collagen. The treatment can be used to greater effect along with a Photofacial IPL treatment or microdermabrasion.