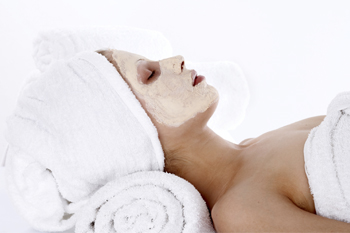 Facial Treatments are the most popular day spa service after massages. This gentle treatment cleans, exfoliates, and moisturizes facial skin leaving it healthy and well hydrated. Facials are a relaxing treatment that is great to get with your mother, sister, or friends. A trained esthetician performs this service in a darkened room with relaxing music as the client lies on a table. The specific products used depends on which type of facial the client is receiving. Acne clearing facials, anti-aging facials, and fruit based facials are only some of the options that are offered here.
What To Expect During A Facial Treatment
Facials typically begin with the aesthetician looking closely at a person's skin though a magnifying light to identify issues and problems. Once a person's skin type (oily, dry, combination, etc.) and skin care concern is discovered, it makes choosing the appropriate products to use easier. Next, the client's skin is cleared of dirt and makeup using a mild cleanser and hot towels. A chemical or gritty exfoliator is then applied to the face and massaged in to remove dead skin cells. After this initial cleansing, warm steam is applied the face to open up pores so that the products can penetrate deeper into the skin. Extractions are usually performed at this time if the client requests them. During extractions, the aesthetician uses special tools to pull out buildups of dirt and protein in the skin. A facial mask is then placed over the face while a hand, neck, and scalp massage are performed as the client relaxes.
Benefits of Regular Facial Treatments
Regular facials improve the softness and clarity of the skin while reducing breakouts. A facial service is a great way to deeply clean the surface of the skin, and to rid the face of the dirt and oil that causes inflammation. The symptoms of acne, such as black heads, whiteheads, and pimples, become less frequent with regular facials. The facial treatment itself is very relaxing. Skin feels supple and soft for days after the service. Skin looks brighter, with less irritation for a longer amount of time. Skin of any age can benefit from a facial treatment.
The Facial Service as Part of an Anti-Aging System
Regular facials are an effective part of an anti-aging system. Fine lines and wrinkles are softened by the ingredients in some of our facials. The skin is kept clean and dead skin is exfoliated away, allowing for new growth and smoothness. Facials are part of the ongoing process of caring for skin throughout life. Properly protected skin retains a youthful appearance for years longer than improperly maintained skin.
Our Facial Treatments:
Signature Facial
Organic Facial
Acne Removal Facial
Anti-Aging Facial
Vitamin C Facial
Calming Facial
Hyper Pigmentation Facial
Chemical Peels
"Got a gift card to Symphony and scheduled facials for me and my sister. What a fantastic experience. Absolutely best facial I've ever had. My sister and I will definitely be going back. I highly recommend.""
~ Pam Moyer, Audubon, PA